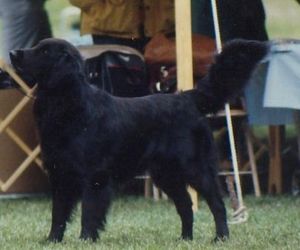 Stoney is a legend in the Flat Coat breed. He exemplifies the true multi-purpose nature of the breed. He finished his breed Championship easily before his first birthday and continued to receive group placements until he was over 12 years old. He was a great show dog but his first love was working.  He attained his obedience titles with style and placements (and not to mention a few good laughs). His ability in the field was nothing less than awe inspiring. Not only was Stoney a great hunting test dog (Master Hunter, who qualified in the first AKC Master Hunter Invitational...predecessor to the AKC Master National) ...he was a perfect hunting companion who possessed style, enthusiasm and as much talent as any dog I've seen. He achieved the FCRSA Hall of Fame entirely on his own merits without any "get" points.
     The mark of great producing sire is producing pups of the highest quality. Stoney certainly met this standard. Stoney pups excel in the field, in the obedience ring and in the show ring. He produced numerous titled offspring and Hall of Fame dogs. He passed on his incredible desire and drive to his offspring. 
     More than an outstanding producer, Stoney was a friend and hunting companion whose mischief and antics kept you laughing and his talent kept you in awe. Stoney stayed with us for nearly 13 years and will be forever in our hearts. We have a very limited amount of frozen semen available to very select bitches.
Offspring include: (Watch for more titled offspring coming soon!)
CH Hy-Tymes Echo Sounder CD JH
CH Hy-Tymes Wythecreek Loran-C
CH Hy-Tymes Celestial Navigator CDX NA
CH Hy-Tymes Even Keel UD TD SH AX HOF
CH Hy-Tymes Ms Shinnecock Inlet
CH Hy-Tymes Cinnamon Bay CD
CH Hy-Tymes Virginia Squire
CH Hy-Tymes Virginia Gentleman CDX NA NAJ
CH Hy-Tymes Virginia Reel CDX MH AX HOF
CH Hy-Tymes Texas Rose CD SH
CH Hy-Tymes Nevada's Hy-Sierra CDX
CH Hy-Tymes Lady Bird Johnson
CH Hy-Tymes Thomas Jefferson
CH Hy-Tymes Ulysses S Grant UD MH HOF
CH Hy-Tymes Teddy Roosevelt CD JH
CH Hy-Tymes Wythecreek JFK CDX JH
CH Hy-Tymes Zachary Taylor CD JH
CH Twin Oaks Spring Formal
CH Twin Oaks Spring Fever MH
CH Twinoaks Springin Inthe Rain CDX MX AXJ HOF
Grousemoor Play It Once TDX JH
CH Goldrich Raisin Kayne
CH Goldrich Amy Of Wythecreek
CH Goldrich Black Pepper
Ambersand's Jessie James MH
Ambersand Simba Duquesne JH
CH Dare's Quillquest Moonshadow
Victory's Wingover Finch JH WCX
Ch. Victory's Fair Winds N Following Seas CD RA SH WCX
SR
Victory's Follow the Leader CDX RN JH MX MXJ XF WCX
HRCH
Victory Fair at Anahorish
UD OM1 MH WCX***
HOF

Ch. Victory's Flight to Riverwind
Victory's Fulbright at Brookmoor CD
OFA information:
Hips FR-713G24M-T Good
Since Stoney died before Elbows and Patellas were routinely checked. A letter from the veterinarian who knew Stoney is available.
Click
HERE
for a sample stud contract for Stoney . Stud contracts will vary somewhat according to the bitch. 
Ch. Spring Valley Moonstone UD MH WCX HOF
Ch AFC Jon-Lee's Spring Valley Atari HOF

Ch Spring Valley Riparian CDX WC HOF

Wyndhan's Surprise Gunner

Ch Wyndham's Nefertity CD

Ch Hiawatha Ragamufin of Katoc

Ch Dynamite's Anxious Arrival CDX

Ch Randolynn's Bliss of Hiawatha