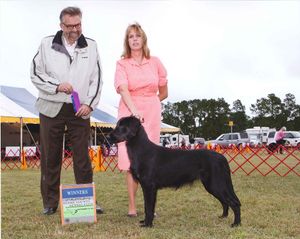 Trudy
    Champion  Shasta's Truth or Dare
(GCH BISS BIS Quillcrest Etched in Stone JH OA AXJ WCX HOF X CH MACH Shasta Terracotta JH MX MXJ )


     Trudy is a "Cutter" daughter. (Cutter was my old girl Dee's older brother.) We are so excited about this pedigree. We were looking to introduce some liver genes back into our breeding program. (While Trudy is black, her mother is liver.) We felt this pedigree didn't just give us some liver genes...it gave us some GREAT genes. It represents the best of beauty, brains, and work ethic that the breed has to offer. This blend of talent, along with the longevity present in the lines, is sure to produce some outstanding dogs.
     We actually think that Trudy has some "goat" in her pedigree somewhere. She will eat anything. The more off limits something is, the more she wants it.  She truly has a sense of humor. While a willing worker, she will quickly add her own flare to any situation. She insists on having fun while doing her task. Although she is capable of taking correction, she responds best to positive reinforcement. Her greatest reward for her effort is praise. She soaks it up. The more praise given, the more she will do. 
     Trudy finished her Championship quickly, including a Best of Breed over numerous specials. She picked up points from the puppy classes her very first week-end out. We are indeed thankful to breeder Joyce Brackney of Shasta Flat Coats for entrusting us with this very special girl. We expect great things from Trudy in the future and expect a few laughs along the way. Stay tuned...
 Ch. Dare's Hearts Afire JH WC WCX(Blaze)
     (Ch. Dayspring Double Your Fun SH   X  Ch. Shasta's Truth or Dare)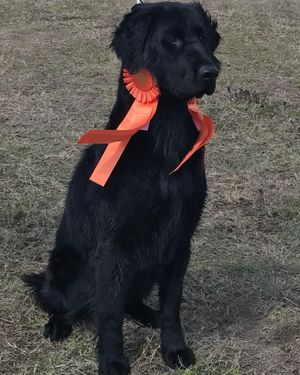 Blaze is proving that Beauty, Brains and Birdiness CAN be had in one stunning package. Blaze finished her championship easily and completed it by going WB at the supported entry in SC. In true Multipurpose fashion, she completed her JH the following month. Blaze completed both her WC and WCX on the same day (Thanks to Jim Buchanan of SOVA Retrievers). The next day with Kim handling her, she was the ONLY dog to successfully complete the WCX.
 Blaze epitomizes what a multipurpose Flat Coat is all about. She will be returning to the ring and to the field to finish her Grand championship and her Senior Hunter titles.
Blaze is a methodical worker, who like all Flat Coats, will often try to outsmart you. 
Special thanks to Shiela Nelson for allowing me to use her special boy Deuce to produce this great girl,
Blaze's OFA clearances are available
here.